5-12-18
The day I saw Taylor Swift.  The day that I finally heard her voice, saw her gorgeous self with my own eyes.
I covered my jean jacket in patches, homemade and bought, ready to see her.  I was desperately waiting, pining in anticipation.
I made a sign because all those others fans, while they're beautiful, but would they make this sign for you?
It was truly the best day with my mom.
I was ready to dance like I knew my life would never be the same.  I don't know why, but with Taylor, I dance in a storm in my best dress, Fearless.
The snake ring and the nails I painted myself put me in a state of grace.
When I saw Camila Cabello, I knew that right there where we stood was holy ground.  I'm not much for dancing, but for her I did.
The stadium went dark, like in the middle of the night in my dreams.  I ran to our seats and saw as the queen arrived on stage. "are you ready for it?"
I spent the change so I had it coming, and as taylor lit up the stadium with her anthems I sobbed because she was right. there.
I was dancing with my hands tied the entire time and remembered how I stood there on the sidelines wishing for right now.
She was so gorgeous, I couldn't say anything to her face.  I thought that I might sink and drown and die, because she never goes out of style.
I knew she belonged with me as I watched what we made her do.  She was the queen of snakes and my heart.
She told us how she had the best day with us.  Is it cool that it's still in my head?
Bass beat rattling the chandelier, she sang her heart out and I did too.
Don't blame me, but Taylor made me crazy with her piano version of long live.
Every night with her would be like a dream, and the lights were so bright but they will never blind me.
Sparks were flying whenever she smiled, and If this was a movie I would watch it over and over again.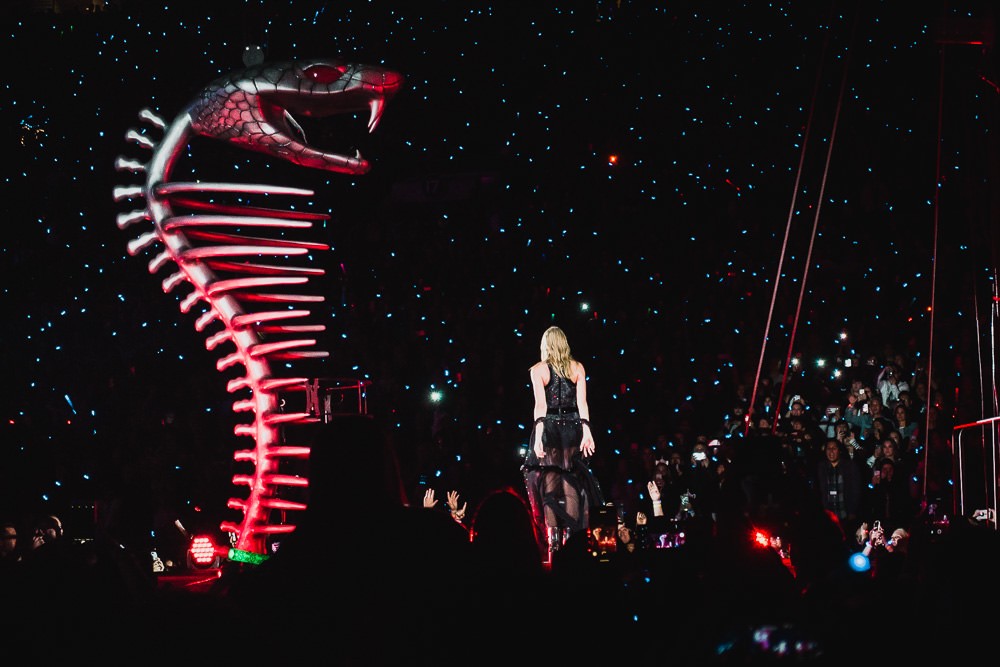 Even though I should've said no, I'm so happy I didn't because I would never want to have bad blood.
I'll remember her, standing in a nice dress, with that red lip classic thing that you like.  The way her blue eyes shined put those Georgia stars to shame that night.
Oh my my my, what a marvelous tune, it was the best night never would forget how we moved.  The whole place was dressed to the nines and we were dancing, like we're made of starlight!
I was crying, I was dying, and I finally said goodbye in… a getaway car.  I will hold onto the memories, and they will hold onto me.  I will forever be wonderstruck, blushing all the way home.  ❤